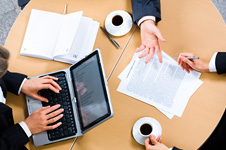 Schoening Technology Group is a full service IT, service and consulting firm that specializes in the placement of professionals, training and implementation of IT and service related projects to meet our clients' needs.
Schoening Technology Group is a company founded on the premise that project implementation and placement of IT, Technical and Service professionals can be done more effectively by taking time to understand our clients' needs. Workplace culture, environment, staffing challenges, and cost cutting are taken into consideration before we make recommendations to our clients. Schoening Technology Group balances leading practices, practical experience, industry knowledge and standard frameworks to advance our service delivery and support capabilities. We have a growing organization and client base which allows us to focus on each individual client and execute a detailed and specialized approach to meet their needs and goals.
Our corporate headquarters is located in Chicago, IL as well as operational office in Eagan, MN, where our Associates enjoy the best of city life and the great outdoors. If you're looking for an extraordinary company that can deliver results, honesty and ethics, Schoening Technology Group is the company for you!
Our Values
STG has a solid blueprint for success, and we implement proven policies and procedures across the various disciplines at our client sites. We demand solid and consistent performance from our consultants, and we do not settle for sub par performance.
Our Commitment
Our commitment is to focus on each individual client, execute detailed and specialized strategies to meet their needs and goals while maintaining the highest degree of professionalism, integrity, value, passion and the pursuit of excellence.